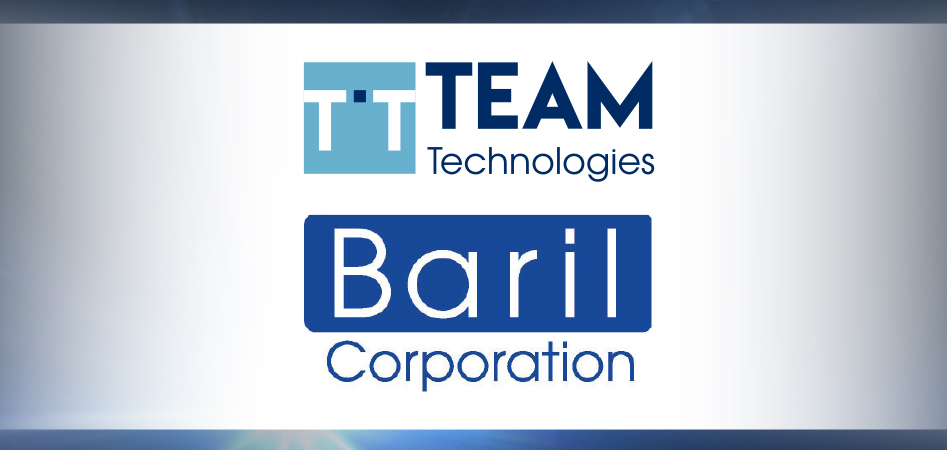 MORRISTOWN, TN, August 25, 2020 – TEAM Technologies has expanded its capabilities to support the design and manufacture of medical device technology and healthcare products with the addition of Baril Corporation. This further extends TEAM Technologies' ability to provide a growing portfolio of products and services to meet the needs of customers in the medical device, healthcare, dental, and oral care markets while increasing its geographical manufacturing footprint within the United States.
Located in Haverhill, MA, Baril Corporation has contributed nearly 50 years of expert contract manufacturing services to medical product companies around the world and serves a wide range of markets including wound care, patient monitoring, clinical chemistry and single-use surgical and medical devices. Baril's experience in rapid prototyping capabilities, engineering and inventory storage capacity has allowed them to bring customers' concepts and ideas to market faster than their competition.
"As a leading U.S. manufacturer, TEAM Technologies is pleased to welcome everyone at Baril Corporation to our TEAM," said Marshall White, President and CEO of TEAM Technologies. "Having a strong partner like Baril enhances our ability to serve our collective customers in the medical device market and support their product development needs. Being ONE TEAM with MANY TECHNOLOGIES means we can provide solutions that revolutionize the healthcare markets we serve and improve the lives of countless patients."
"Baril Corporation continues its focus on innovative customer solutions," said Dan Baril, CEO and owner of Baril Corporation. "For decades, we have been successfully driving growth in the healthcare industry with process expertise in flexible materials and adhesives. Now, by combining with TEAM, we offer our customers the benefit of even greater possibilities through expanded product capabilities and solutions."
The addition of Baril Corporation enhances TEAM Technologies' strategy of expanding its medical device capabilities and resources to meet customer needs. Offering the benefits of a variety of services ranging from product design and development to finished device manufacturing, assembly and packaging, TEAM Technologies is suited to meet the needs of companies and industries seeking innovative and efficient commercialization and product development solutions. With facilities located within the United States, the company is well positioned to provide the benefits of working with North American resources which can improve quality control and reduce product lead times.
About TEAM Technologies
Headquartered in Morristown, TN, with 13 facilities throughout the United States, TEAM Technologies is a leading specialty manufacturer providing solutions to support companies in the global healthcare products industry. Its 'ONE TEAM, MANY TECHNOLOGIES' philosophy uniquely positions TEAM Technologies to be your ONE PARTNER with many solutions and capabilities including innovative product development, expert design and efficient manufacturing processes to support both medical and dental end markets. TEAM also boasts an extensive lineup of products designed to service these end markets which include medical supplies, pharmaceutical packaging and supplies, infection prevention, veterinary health, oral healthcare and consumer health. With an entrepreneurial mindset and a management team with deep industry experience, TEAM Technologies has experienced tremendous growth over the last 30 years by leveraging seamless, turnkey processes and innovation to positively impact the success of TEAM's customers. For more information, visit www.teamtech.com.
About Baril Corporation
Headquartered in Haverhill, MA, Baril Corporation is the premier end-to-end contract manufacturer of disposable single-use medical products in infection protection, wound care, clinical chemistry, patient monitoring, and medical and surgical disposables. In addition to being QSR-GMP compliant, Baril Corporation is ISO 13485, ISO 9001, and ISO 14644 Class 7 Clean Room certified, Baril is MDSAP-certified (Medical Device Single Audit Program). and holds itself to a higher quality standard. With a U.S.-based supply chain, rapid prototyping capabilities, deep engineering expertise, and available capacity, Baril can pivot quickly to meet market demand. For more information, visit www.barilcorp.com.
https://teamtech.com/wp-content/uploads/2020/08/cropped-TT_Baril.jpg
450
947
Nickname_Paul
https://teamtech.com/wp-content/uploads/2023/01/TeamTech_WebLogo_440x200_v2-300x174.png
Nickname_Paul
2020-08-25 16:20:33
2021-01-26 04:26:56
TEAM Technologies Strengthens its Medical Manufacturing Solutions with the addition of Baril Corporation